(Yes, I said grub. I

warned

you about my thing with the 90s.)
About once a month my family has a "party" at my parent's house where all of us kids bring our spouses and offspring over and try (usually unsuccessfully) to kick the parent's butts at Rock Band. Great fun is had laughing at each other's expenses, but the
best
part is the food.
I don't know about you but when I go to parties I go straight to the food, and that goes
triple
for when I'm pregnant. I'll talk politely to people of course-
Nick Jr taught me well
-but usually only if they are
directly
intersecting my path to the food....and then only for a minute.
At my parent's house I don't even have to be polite. I just walk right in, go straight to the fridge and start browsing. Normally I would not bother browsing and just go straight to consuming, but this year my sister in law, sister, and I have all been pregnant (my sister in law had my nephew last month, my sister is due in 5 days, and I am due in May) so out of a spirit of sisterhood we try not to eat the cupboards bare before the other preggos get there. As soon as the last one of us walks in the door though we converge on my parent's fridge like ravenous mountain lions...then proceed to devour and/or critique everything in there.
So what party foods do three pregnant women consider a "score"?
First? Party Platters. It has the word "party" right in the name
for a reason
. Party Platters of all varieties-veggie, fruit, meat, and Mexican being our top four-are like build your own heavens. You can get the best of everything, and leave whatever you don't want! It's especially ideal for pregnant women with those spur of the moment "food
swings", but I truly believe that Party Platters are good for all ages and both genders because of their delicious simplicity and flexibility.
Another awesome find is bread with dip. Who doesn't love some sourdough bread dipped in
spinach-artichoke dip
? Warm or cold, we all agree it's the best. Still, if you're not vegetationally inclined like we are there's always the equally awesome
bean dip
and chips or
cheese dip
with bread OR chips (or both!).
If we're looking for something substantial, we're always happy to happen upon some
quiche
(though don't get us arguing about which kind!) or some
twice baked potatoes
...both of which are available in grocery store frozen sections in the "mini" version if you're looking to feed a lot of people a little bit. If your feeding a swarm of preggos however, I recommend staying full-size.
In the end, no matter what we pull out of our parent's fridge it all comes down to dessert.
MMMMMMMMMMMM.
Ice cream, brownies, cookies, pies.....yep. Dessert is the best part. And the best dessert is Pan Cookies! I will give you our family recipe for what can only be described as The World's Best Dessert. Ever.
You'll Need:
1 Stick Butter (1/2 Cup)

1 1/2 Cups Graham Craker Crumbs

1 Cup Walnuts, coarsely chopped

1 Cup Chips

(most people use milk chocolate, we use 1/2 white & 1/2 milk chocoloate)


1 1/3 Cups Coconut

1 can Sweetened Condensed Milk

13 X 9 1/2 baking pan
Step 1
Preheat oven to 350 degrees (or 325 for a glass pan). Melt butter.
Mix hot melted butter and grahm cracker crumbs, press into the bottom of the pan.
Step
4

Pour Sweetened Condensed Milk evenly across top of coconut
Step
5
Sprinkle chopped walnuts over grahm cracker


Step6



Sprinkle chips evenly across the pan

Step7
Sprinkle coconut evenly across the pan-press all ingredients down firmly with a fork
Bake for about 25 minutes or until coconut starts to turn brown
Cool completely and then cut into pieces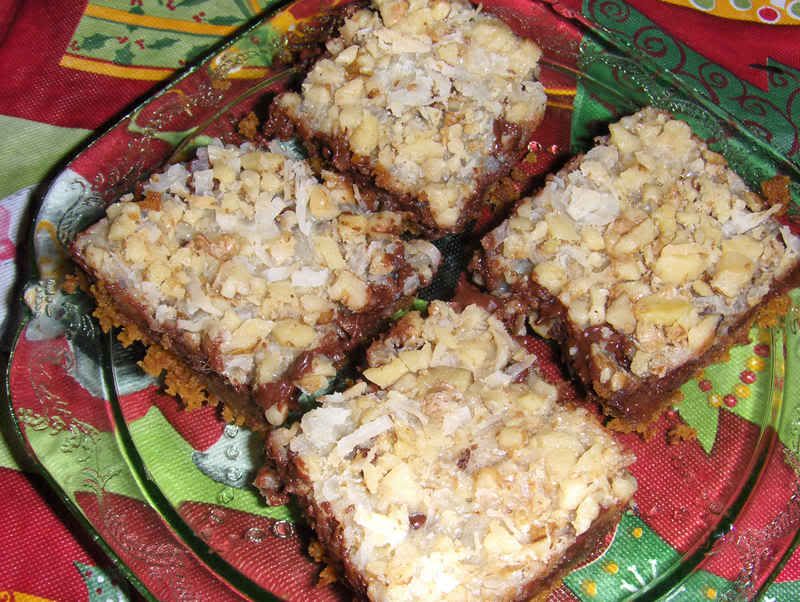 Voila! Delicious delicious pan cookies to go with your tasty tasty party snacks. Your party is now a success!
(Back to Main UBP post)