Since my last post I have gotten several comments and emails asking about our orange cinnamon roll tradition. Like a lot of traditions it started when I was a kid...
When I was little to say that my family didn't have a lot of money would be an understatement. Neither of my divorced parents had any money at all-there was more than one year that our family was the recipient of church Christmas donation boxes, or sponsored by kind hearted secret santas leaving Christmas money in our mailbox, on our doorstep, or underneath our windshield wipers. I can think of at least one Christmas with only hand made (free) presents, and with gift 'spending limits' of five dollars for each person.
I learned from a very early age that Christmas is in your heart, not under the tree (if there was one). I never had a pleasant Christmas with my mother, but once I went to live with my dad he did everything he could to make my Christmas mornings special-and the best, most special part of it all was the music and the food. No matter what was or wasn't under the tree, every Christmas morning we listened to Nat King Cole while we opened presents and had orange cinnamon rolls for breakfast afterward. I remember my dad in his pajamas drinking his coffee and singing along with Nat, and everyone vying for the orange roll with the most icing. It may not sound like much, but for me it wouldn't be Christmas without those jazzy carols and Pillsbury rolls. We still listen to Nat on Christmas Eve when we open presents at my dad's house, and now every Christmas morning our kids wake up to those same carols and the smell of sweetened orange.
It's my very favorite old tradition-and I
really
like traditions. That's why this year we've decided to make a new tradition with the kidlets. We've been searching for the right new tradition since Monkey was born and I really think we've found it. We've decided we're going to do our Christmas tree Victorian style.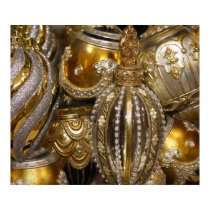 In the Victorian era, Christmas trees were decorated with many home made ornaments and garlands, and families spent time together creating the trinkets together. I think this sounds like such a lovely tradition, and such a great way to spend time together. While I don't plan on making all of our ornaments "authentic" Victorian ornaments-though I think we will be making the cornucopias-I do plan on preserving the idea of making homemade ornaments. This year in addition to the cornucopias we plan to make glitter/jeweled pine cones, a popcorn and cranberry garland, walnut ornaments with our pictures on them, and (maybe) our own Christmas balls. We will of course cheat and use clear lights instead of candles because, you know, that's a fire hazard and stuff and we'll probably buy a Christmas star because Hubby loves them, but either way I know we will end up with a very special, unique Christmas tree and some great memories with the kidlets...I can't wait!