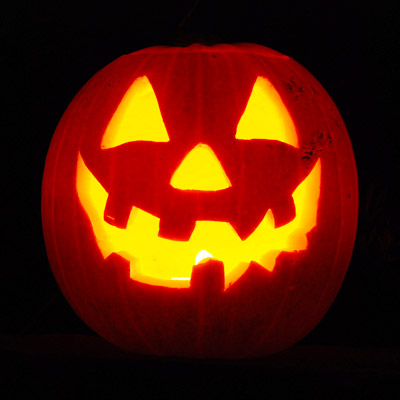 When I was younger, I used to like scary movies. The Final Destination and Urban Legend series were some of my favorite movies when I was a teenager. I like getting freaked out over what was going to happen next and trying to figure out who the "bad guy" was. Now as an adult I don't watch scary movies. Ever. The scariest movie I've watched in years was Pan's Labyrinth and that was by accident-I thought it was supposed to be more of a fairy tale. I just can't watch scary movies anymore and I remember exactly the moment when I turned that corner.
When I was 17 I was living with three roommates in a house in an older section of town. My three roommates lived upstairs in different sections of the house and I took the room in the basement because it was bigger and had a semi-private entrance. Usually though I hung out and watched TV and surfed the web upstairs in the living room because that was the nicest part of the house. It had a huge fluffy couch and a way bigger TV than I had in my room and a huge 60 gallon aquarium filled with beautiful tropical fish.
On one of my nights off my roommate invited me to watch a movie with him and his girlfriend on the big TV upstairs. Hubby (who was "just" my boyfriend at the time) was working and not able to come over until the wee hours of the morning, so I figured it would be a fun way to be distracted and not just sit around bored while I waited for him to get to my place. They had rented The Ring. Remember, at this point, I still loved scary movies so I'd been watching and waiting for it to come out to be available to rent and I was super excited to watch.
It was, by far,
THE SCARIEST MOVIE I HAVE EVER SEEN
. Just the thought of it still nearly sends me into a panic attack it was that freakin' scary. At least, to me. I'll spare you the super scary parts, but basically it's about a tape that if you watch it someone calls you and tells you that you're going to die in 7 days. And then you do-because your TV magically turns on by itself and a bone chilling little girl crawls out of a well, then straight out of your TV and gets you, leaving water puddles on your floor.
Scared. The. Pee. Out. Of. Me.
I decided that the best way to calm down would be to go lay down in my room and read my favorite book (Wuthering Heights, totally not scary) and wait for Hubby to come. As I laid on my bed reading my book I was doing fine...until I heard water. Trust me, you do not want to hear running water directly after you watch this movie. I start panicking a little until I realize hey-the aquarium is directly above me. I tell myself no big deal. Calm down. Read your book.
Then the power flashes.
And my TV turns itself on.
And I scream (and maybe pee myself a little).
Still, I tell myself to get a grip. The power flashed. Whatever. It happens. My TV is old. The circuits in the house are weird. Maybe I sat on the remote. Whatever-just get up and unplug the TV and you'll feel better. So I sit up and swing my legs over the side of the bed and go to unplug the TV..............
and step in a giant puddle of water
.
I totally lost it
. I run screaming upstairs, crying my eyes out. Not my most shining moment, especially once my roommate figured out that it was just the washer (also located in the basement) which had a broken hose. Still, logic or no logic, I was scared out of my skin so I invited myself to sleep on the floor in my roommate's room-on the side
away
from the door-until Hubby came over. My roommate and his girlfriend were
TOTALLY
laughing at me, but I didn't care. That stuff was
scary
.
Ever since, I haven't been a big fan of scary things and every year I get less and less tolerant. Still, after Monkey was born I made one exception---Halloween! I actually really like it now-from the Mom side of things it isn't scary at all! I get to dress up the babies in adorable costumes and take them to my parents' house where they can collect candy....most of which Baby Bug is still conveniently too young to eat, but not too young to share with Mommy.
MMMMMMM-Candy.
AAAAAAAAW-Adorable Costumes.
Yep, I like Halloween.....so long as it isn't scary.
I hope everyone has a fun, safe, adorable, delicious Halloween!