Don't you just love Fall? It is definitely my favorite season (tied with Spring)...as opposed to my un-favorite seasons Winter and Summer. What can I say, I'm not one for extremes. Unless you count the fact that I am extremely excited that it is Fall. That's why it's so cool that my friend Lisa's meme this week is all about Fall. Hop on over and have a visit for "I Wanna Talk About Me" day!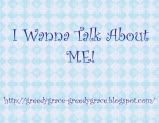 1. What is your favorite Fall scent?
Warm rain in the afternoon. It smells so fresh!
2. Pies: Pumpkin or Apple?
Pecan. Sorry, but it's not Fall (or Thanksgiving) until I have a warm pecan pie with a scoop of vanilla ice cream on top.
3. Do you separate your summer and winter clothes? If so, have you put away your summer clothes yet?
No. Up here in the NW the weather doesn't change enough to truly warrant putting clothes away and taking them out all over again.
4. Do you decorate your house for Fall?
Yes! The kids collect leaves and we will make a little centerpiece, we paint pumpkins, make caramel apples (which are extremely decorative for about 24 hours), have candy dishes filled with candy corn...aaaaaaaaaah Fall.
5. What are you looking forward to most this Fall?
Carving pumpkins. We are planning on going to the pumpkin patch next weekend, which is going to be a blast, then we are all going to carve it up. Okay, so the kidlets will be painting little pumpkins and Hubby and I will be carving, but either way it'll be a blast.
6. Halloween is coming up! What are you (and your kids, if applicable) dressing up as for Halloween?
Monkey is definitely Spiderman. He even got the suit with the fake muscles in it and everything. I think Baby Bug is going to go as a fairy, but I'm not sure. I have no idea what to have the Bean as....maybe some kind of bug (bee, butterfly, ladybug)? I've been way too busy to plan that much yet (bad mommy. bad.)
7. Just Lisa's birthday is this Fall! What are you getting her?
How about we trade comments? My birthday is on November 20th! It's so funny that you are going to be 29, because I'm going to be 25-we're basically the same age (and always will be, seeing as I too will cease aging at 29)!